9 Ball Pool News
R'n'B Open:
Sunday 15 June 2008
Runner-Up Andy Nicholson joins Winner Rico Diks, celebrating their achievement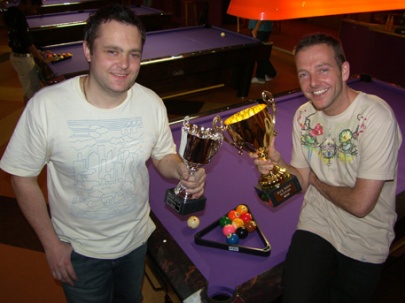 Although originally advertised as a "limited to 40 entries" event, this event organised by Chris Billings was well subscribed and actually accommodated 43 runners, drawing some quality players despite many being away for the Euro Tour.

Rico Diks won the big golden trophy and the main cash prize after an outstanding display of pool in the final, the Dutchman played near perfect pool, with Mile End's Andy Nicholson taking the silver trophy for his efforts.

Length of race extended this year
Despite the expected lower turn-out than last year, this event was still over-subscribed, and with just over 40 players the races were able to be extended from last year's race-to-five format, to race-to-six this year. Having said that, some players would still prefer longer races, saying that such short races can make it hard for the better players to guarantee a win.

I don't know about that, but although there were many players at this event that were capable of winning it, I do think Rico was the favourite at the start of the tournament, and sure enough, he was favourite at the end too!

Who knows... But adding to the conspiracy theory is the strange pattern of scores in the last 16 stage. No less than 75% of the matches finished with the exact same score... 6-2 What are the odds of that happening???

Spooky!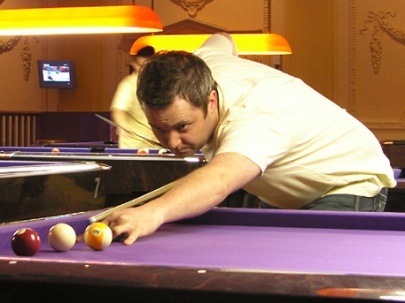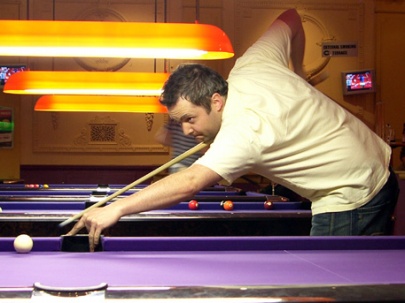 Steve Folan collecting his prize at the R'n'B Open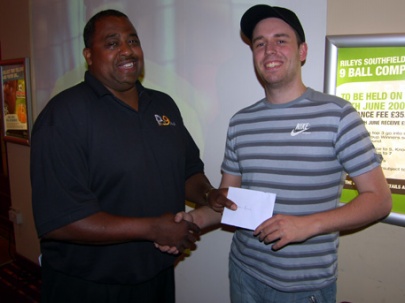 GB9 Challenge Cup 2008: Andy Nicholson: Runner - Up 31/05/08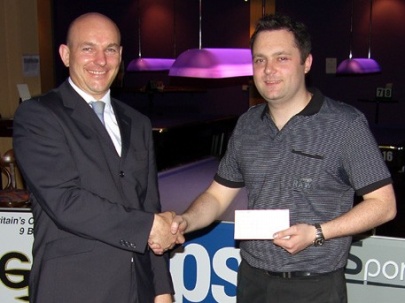 David Walsh triumphs but Andy Nicholson gives him a run for his money in GB9 Challenge Cup!!!

Two players from London earned their chance of fame and glory by reaching the final of The GB9 Challenge Cup this weekend. It was battle of East versus West, as David Walsh from Shepherd's Bush in West London beat

Andy Nicholson

from Mile End in East London

at Rileys Wealdstone.

It had been noted earlier in the tournament that both players were in excellent "form", Nicholson's break received particular mention, and this result has really placed him "on the pool map" for a lot of players and spectators alike, but in the final it was Walsh who triumphed with a competent 11-5 to take the trophy, the title, and the all important ranking points.

Walsh's biggest hurdle was his quarter-final battle with Challenge Division numero uno Thomas Ainsworth-Smith who has won both previous events and currently sits at the top of the leader board. "He's been doing everyone over in the last few tournaments", said Walsh, "he's been playing really well and it seemed like he deserved it, he seemed like he was cueing better than anyone else in the Challenge Division so you have to give it to him really, I'm just pleased that I could show him that he can be beaten."

Walsh admitted that he had let his game and practice regime slide a little but has announced that he's back with a new hunger for the game, playing almost every day if he can. This win should earn him a well deserved promotion into the exclusive top 8 on the Challenge Division rankings.

THE GB9 LONDON CLASSIC Sunday 1 June 2008
THE CHALLENGE CUP

THE LAST 32

Thomas Ainsworth-Smith 9 : 5 Luke Goodchild
Jack Triggs 9 : 7 Matthew Ford
David Walsh 9 : 6 Thomas Emes
Phil Morgan 9 : 2 Andy Appleton
Andy Lester 9 : 8 Douglas Isaac
Clark Smith 9 : 6 Kevin Simpson
Jonny Cooper 9 : 7 Chun Hao Man
Andy Barnett 9 : 4 Mark Hughes
Gary Thompson 9 : 7 Andy Morris
Stephen Folan 9 : 8 Ben Moore


Andrew Nicholson

9 : 3 Scott Higgins
Tony Burton 9 : 7 Liam Wilson
Chris Cowie 9 : 7 Damian Massey
Neil Cummins 9 : 3 Tom Gilvarry
Simon Widlo 9 : 7 Chris Buckmaster
Brad Parker 9 : 4 Jason Howard


THE GB9 LONDON CLASSIC




THE CHALLENGE CUP


THE LAST 16
Thomas Ainsworth-Smith 9 : 2 Jack Triggs
David Walsh 9 : 6 Phil Morgan
Clark Smith 9 : 6 Andy Lester
Andy Barnett 9 : 4 Jonny Cooper
Stephen Folan 9 : 3 Gary Thompson
Andy Nicholson 9 : 3 Tony Burton
Neil Cummins 9 : 5 Chris Cowie
Brad Parker 9 : 5 Simon Widlo

THE GB9 LONDON CLASSIC


THE CHALLENGE CUP




THE QUARTER FINALS



David Walsh 9 : 8 Thomas Ainsworth-Smith
Andy Barnett 9 : 7 Clark Smith
Andrew Nicholson 9 : 4 Steve Folan
Brad Parker 9 : 5 Neil Cummins



THE SEMI FINALS



David Walsh 9 : 7 Andy Barnett
Andrew Nicholson 9 : 5 Brad Parker



THE FINAL




David Walsh 11 : 5 Andrew Nicholson